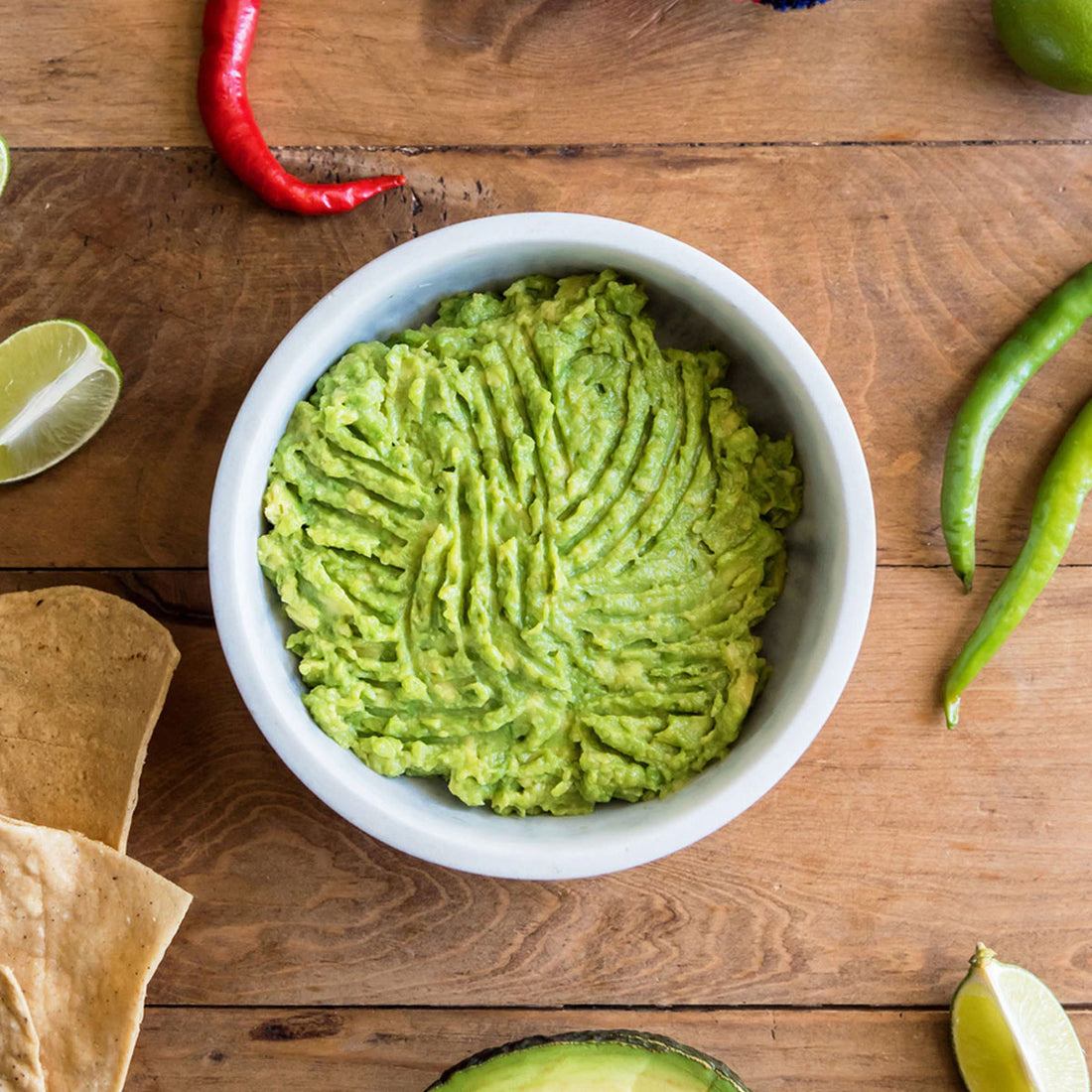 Time: 15 minutes
Serves: 15 servings
Difficulty: Easy
You know a recipe is good when it dates back to the Aztec Empire in the 1500's! We're beyond excited about our organic ripe-every-time frozen avocado pieces that are making too-quick-to-rot avocados a thing of the distant past. What better way to celebrate than with the most traditional of avocado recipes, guacamole! Enjoy our favorite guacamole recipe, complete with jalapeõs, cilantro and fresh garlic!
Recipe Benefits
Gut Health

Heart Health

Immunity
Ingredients
1 bag of frozen Pitaya Foods Avocado Bite-Sized Pieces
1 small onion, diced
3 tablespoons fresh cilantro, chopped
1 garlic clove, minced
1 jalapeno pepper, diced (remove seeds for less heat)
1 tomato, diced
Juice of 1 lime
Salt and pepper to taste
OPTIONAL: greek yogurt or sour cream for added creaminess
Directions

Pour avocado cubes into a bowl and let thaw for 15-25 minutes OR use a microwave or low heat convection oven to thaw faster


Finely chop onion, cilantro and jalapeño (removing seeds for less heat), mince garlic clove and chop tomato


In a medium bowl, mash the avocado and add lime juice


Add remaining ingredients and mix together


Dip with a chip to taste and adjust with salt and pepper as needed


Enjoy!

Nutritional Benefits

Good Source of Fiber

Fiber aids in many important functions within the body, including maintaining steady blood sugar levels, keeping hunger at bay, aiding in digestion, and fueling a healthy gut microbiome.

Good Source of Vitamin K

Vitamin K aids in the production of various proteins that are needed for blood clotting and may prevent hardening of the heart arteries.

Contains Vitamin C

Vitamin C boasts as one of the most powerful antioxidants, is vital to the body's healing process, helps support healthy immune functions and can make you less susceptible to illness.

Advanced Nutrients

Macronutrients are the nutritive components of food that the body needs for energy and to maintain the body's structure and systems.