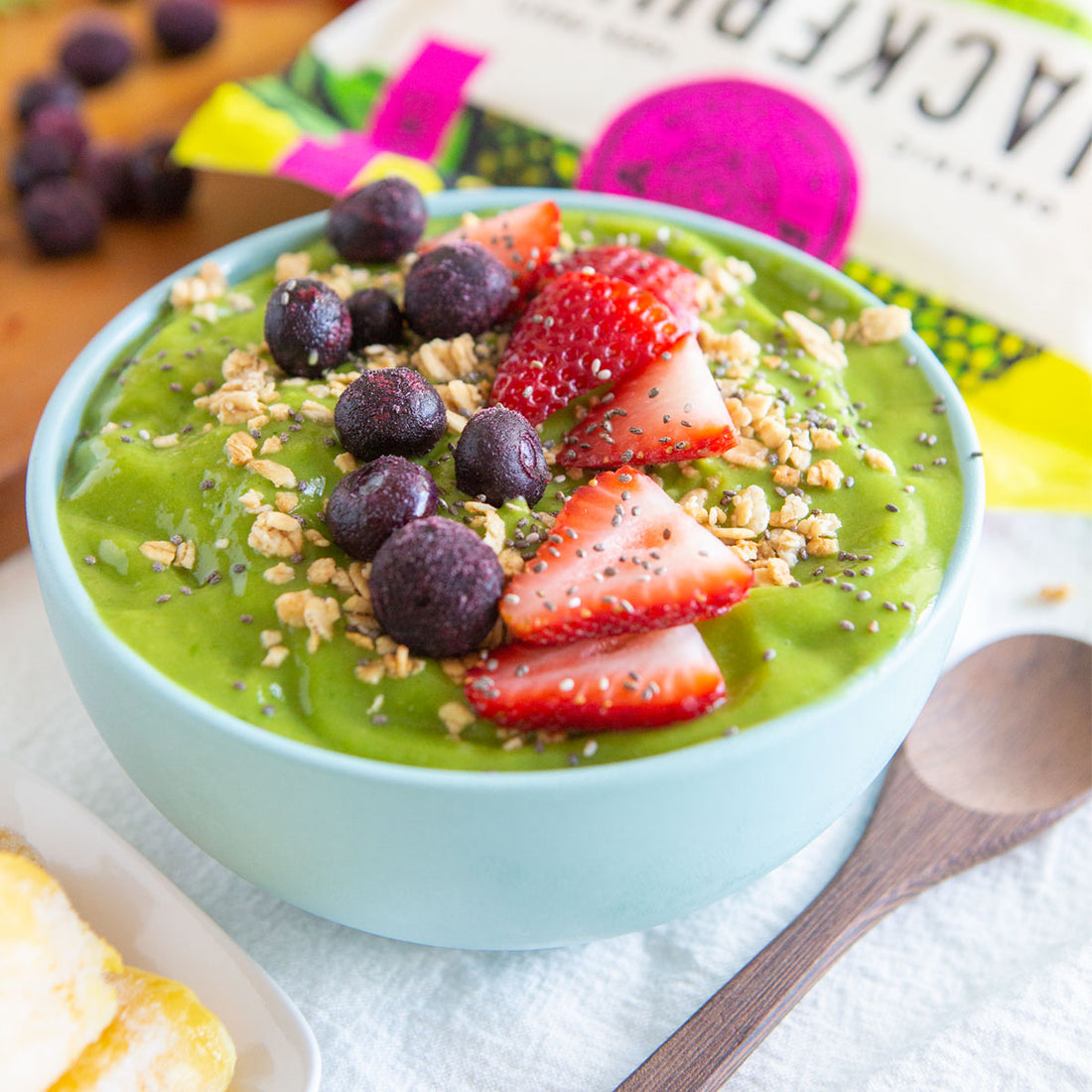 Time: 7 Minutes
Serves: 1 x 16 fl oz
Difficulty: Easy
Finally a green smoothie bowl that's good for you AND delicious! By using our frozen ripe Jackfruit pieces, this bowl is complete with just enough sweetness to balance out the earthiness of greens, providing a refreshing and tasty bowl. Our ripe Jackfruit pieces are not to be confused with young jackfruit, often used as a meat substitute. Our ripe Jackfruit has a juicy fruit flavor that has been described best as an epic combination of pineapple, mango, and banana!
Recipe Benefits
Heart Health

Gut Health

Immunity
Ingredients
TOPPINGS
1 oz fresh or frozen blueberries
1 oz fresh or frozen strawberries
2 oz of low-sugar granola
1 tsp of chia seeds
Directions

Put all bowl ingredients into a blender, starting with soft ingredients


Blend on medium-high for ~30 seconds or until desired consistency


Once blended, pour the mix into a medium bowl


Add your toppings to the top of your blend and enjoy!


NOTE: To make the bowl thicker, start with 2 oz of liquid


Nutritional Benefits

High in Vitamin K

Vitamin K aids in the production of various proteins that are needed for blood clotting and may prevent hardening of the heart arteries.

High in Fiber

Fiber aids in many important functions within the body, including maintaining steady blood sugar levels, keeping hunger at bay, aiding in digestion, and fueling a healthy gut microbiome.

High in Vitamin A

Vitamin A plays a vital role in maintaining a healthy immune system, protects your vision and eye health, and helps your heart, lungs and kidneys function properly.

Advanced Nutrients

Macronutrients are the nutritive components of food that the body needs for energy and to maintain the body's structure and systems.