Strawberry Dragon Smoothie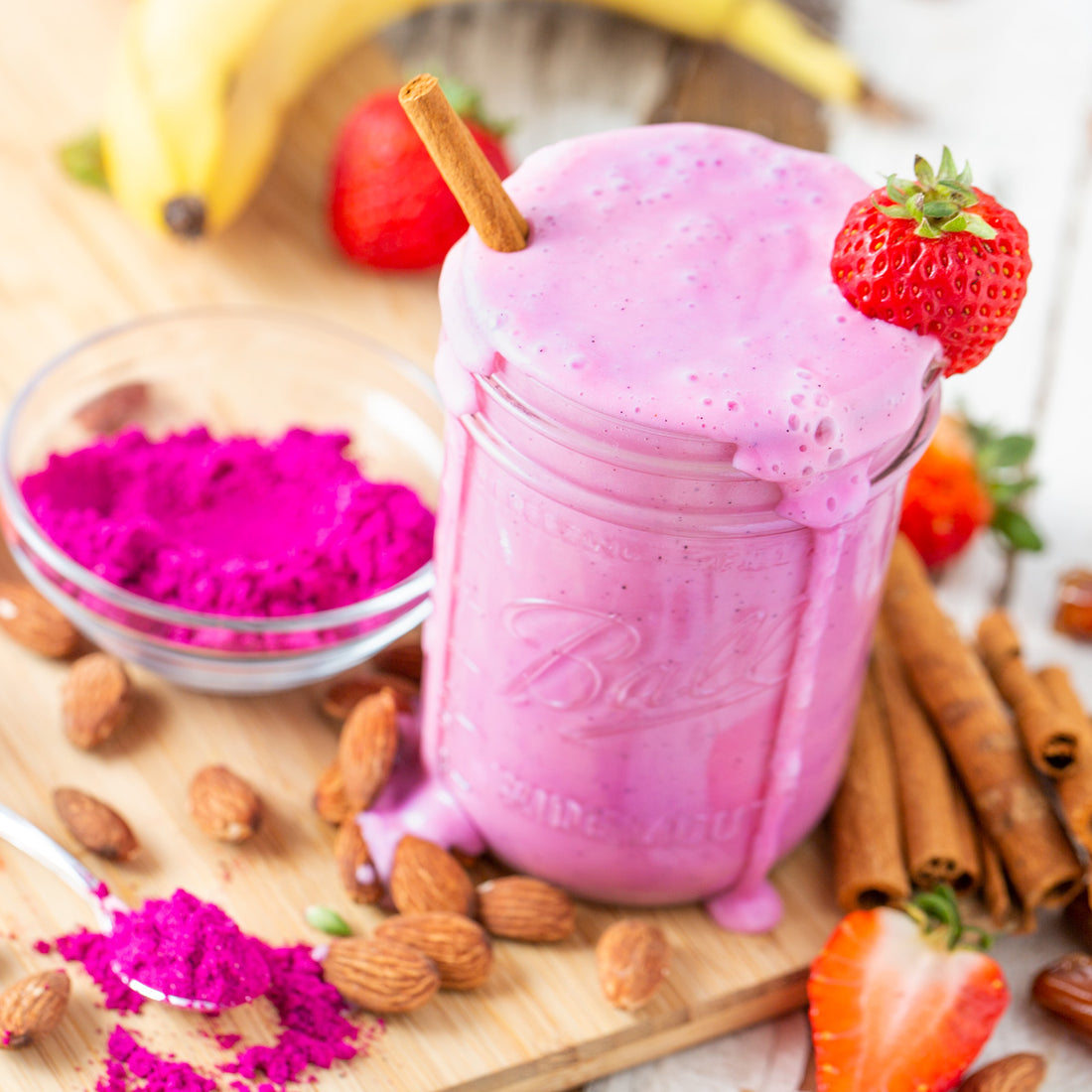 Time: 5 Minutes
Serves: 1 x 16 fl oz
Difficulty: Easy
The Dragon Smoothie takes a classic strawberry banana flavor and gives it a pink upgrade. Each sip has a tropical taste with a cinnamon / almonds finish that has the perfect balance of sweet and nutty. This refreshing smoothie is easy to make, delicious and is perfect anytime of day. ENJOY!
Recipe Benefits
Immunity

Antioxidants

Gut Health
Ingredients
1 CUP FROZEN STRAWBERRIES
1 BANANA
1/4 CUP RAW ALMONDS
3/4 CUP ALMOND MILK
2 PITTED DATES
1/2 TSP GROUND CINNAMON
Directions

Add all prepped ingredients to your blender.

Turn blender on medium to high for roughly 45 seconds or until desired consistancy.

Pour blender mix into a glass and enjoy!

Nutritional Benefits

High in Vitamin C

Important to take daily as it is not stored in the body, Vitamin C boasts as one of the most powerful antioxidants, is vital to the body's healing process and essential in the production of collagen.

High in Vitamin E

The main function of Vitamin E is as an antioxidant, but it may also reduce markers of oxidative stress, enhance immune function and prevent clots from forming in heart arteries.

High in Fiber

Fiber aids in many important functions within the body, including maintaining steady blood sugar levels, keeping hunger at bay, aiding in digestion, and fueling a healthy gut microbiome.

Advanced Nutrients

Macronutrients are the nutritive components of food that the body needs for energy and to maintain the body's structure and systems.